When one comes across Pecorino, it's natural, for an epicure, – even one well versed in Italian wine culture – to think of cheese. But that's not what this article is about. Pecorino is also a white grape native to the Marche region of Italy, so named, it is presumed, because the sheep of the region (the Italian word pecora means sheep) liked to snack on the grapes. Or maybe it was the sheepherders; nobody knows for sure.
When I first discovered this grape, it came paired with a wonderful story. The vines, it was told, were thought to be completely extinct, until a farmer had come across them, coincidentally, growing wildly in a ravine. Sadly, for the romantics out there, this is not exactly the truth. Though correct that the grape was virtually extinct, it was, in reality, purposely rediscovered by a Marche farmer and vintner named Guido Cocci Grifoni. Already known as a trailblazer in the region, Grifoni had left the local coöp in the late 1960s to establish his own wine production facility, and had been instrumental in creating the Rosso Piceno DOC (now a DOCG) in 1968.
"In the early 1980s, he realized the problems we had with our white grapes," Marilena Cocci Grifoni tells me about her father, who passed away in 2010. "Trebbiano mainly, but Malvasia and Passerina as well. He traveled to VinItaly and saw that our white wines could not compete with the rest of Italy. So he understood that he had to find a new grape." Verdicchio, of course, is the star white wine of Marche, but it only thrives in the northern part of the region, not in the more southern Ascoli Piceno province (which lies just north of the Abruzzo border), due to climate and terrain differences.
Grifoni began to research native white varieties of the region, eventually dusting off the records of an old mountain grape called Pecorella, or Pecorino. He and some colleagues then discovered the existence of a tiny, virtually abandoned vineyard, located 1000 meters above sea level, where the grape supposedly grew.
Once they had arranged to visit, as Marilena put it, "this garden with the old Pecorino," Grifoni took his favorite cuttings back to his own vineyard, where he planted them in various locations to determine how it would best grow (spoiler: avoid southern-facing slopes). After tasting the first vintage, he became determined to make this his star white. Nearby vintners, however, did not share the same vision. "Our father was alone. He had the pressure all in his own hands to make this work," Marilena tells me. "He went to the local agricultural school for help, but nobody listened to him. Everybody thought Mr. Cocci Grifoni was a crazy man."
The breakthrough, ironically, came in Abruzzo. "He found a man from Abruzzi, dealing with the same problems with Trebbiano. Sour, sometimes bitter. He understood my father had maybe found a solution for the issues they were having there. So they took the vines to the local producers in Abruzzi, and they sold a million vines! They believed in the new grape, while everyone at home did not. This is why, today, people still think Pecorino comes from Abruzzi."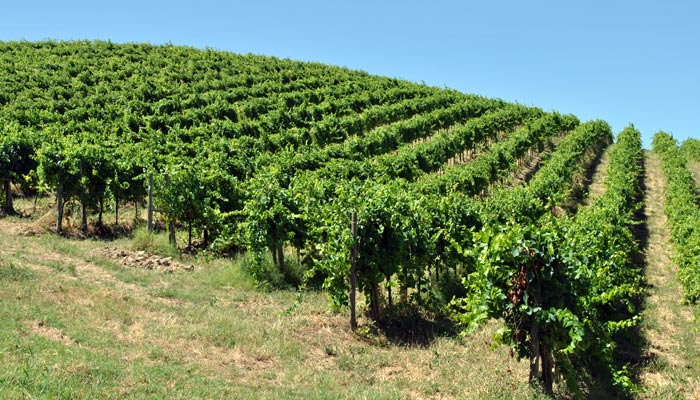 This remains a sore point for many in Marche, especially now that the only Pecorino DOCG exists in Piceno. "DOCG means that this grape is produced best here," says Monica Eleuteri, of winery Colli Ripani. "So, Pecorino is also produced in Abruzzo, and other places, but it is not the same as Pecorino from Marche. Our guidelines say it must be 70 hectoliters per hectare, for example, whereas in Abruzzo it is 110. So our wine is more concentrated, more powerful, cleaner."
"In Abruzzi," says Grifoni, they have different micro-climates, different soil. They have to do work in the cellar to make Pecorino. We don't need to do that."
It's amazing how much emotion and pride a grape that many outside these regions have never heard of can generate. But Pecorino is clearly a special wine, one that's often described as "important" by these winemakers. Not something for every day. For special meals, celebrations, times that matter.
Pecorino is also that rare white that's worthy of the cellar. "Our wines can age more than 10 years," says Grifoni. "This is because of the structure. There's high acidity, plus the alcohol, that allows it to gain complexity over time. The acidity mellows, but remains there." In fact, Cocci Grifoni Offida Pecorino 2012 was the one sample I tried that seemed like it would benefit from rest. More herb-scented and sharply acidic than the others, it improved with air and might get even better with time to further integrate.
Before we end our conversation, Marilena Grifoni takes the opportunity to give Pecorino one last push.  "It's so versatile," she tells me. "You can match with food or drink it alone. It works well with meals that are rich and important. It's so complex and full-bodied, like a red wine."
In Piceno, the finest Pecorino is made in the Offida region, designated DOCG, and required at least 85% Pecorino, often 100%. Wines of the Falerio DOC can also be a Pecorino-based blend, but the best grapes are used for the Offida wines.
"We often say it is a red wine dressed like a white," says Eleuteri. "It has strong character. The high sugar content leads to high alcohol – 13.5-14% – but the climate also allows for high acidity. And there is a lot of minerality."
This idea of minerality comes up often when talking with wine people in Piceno: how the region is positioned uniquely between the sea and the mountains. How the rolling hills fit snugly just between – 10 kilometers from the Adriatic and 20 from the Apennines – and how from the top of a good hill you can spy both. How you can see the salty minerality of the beach in the soil.
Though all the Offida Pecorino DOCG wines offer this distinct flavor, in particular the Collevite Villa Piatti Offida Pecorino 2012 tasted of the sea, with a noticeable salinity throughout. This is a wine that's often eaten with seafood, of course, shellfish, or grilled fish, often swimming in olive oil or cooked with lemon to match the citrusy notes of the wine.
Colli Ripani Offida Pecorino Rugaro Gold 2012, on the other hand, leads with another telltale Pecorino characteristic: tropical fruit. Right from the open, it displays an unmistakable note of banana, which later mingles with fresh pineapple and honey. This is not by any means a light white wine; it is full-bodied and lush, and thus quite versatile at the table. Not just for fish, it also could pair with chicken (light or dark meat), pork, or even sausage. And pecorino cheese, of course.