Catie McIntyre Walker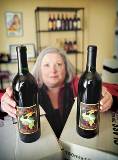 Catie McIntyre Walker was born and raised in Walla Walla, WA and is the original Walla Walla wine blogger and "locapour." She is a graduate from the Center for Enology and Viticulture at Walla Walla with a Certification in Viticulture. Catie decided she wanted to be hands on when it came to learning about the wine industry, so she dug holes, planted vines, worked crush, topped and racked barrels, worked the bottling line and was even a judge for one of the largest NW wine competitions.
Catie discovered that she enjoyed talking about the wines of the valley and worked in local tasting rooms. After almost eight years of cleaning spit buckets and pouring for the masses, she hung up her cork screw to pursue her writing and open her online wine store,  Walla Walla Wine Woman. Catie also writes a wine column for the Walla Walla Union Bulletin's magazine, "Lifestyles" and  blogs for Tourism Walla Walla. She lives with a bossy little Yorki-Poo by the name of Chloe-Bird and two black and white tuxedo cats, by the name of Crosby and Nash. The cat's names give away what generation Catie is from.